It's finally here. No more Copa America. No more Gold Cup. The AFCON Cup wrapped up on Friday. The wait is finally over. It's time for the Premier League to begin!
The day that all of us have been waiting for since a 5 to 3 final day victory against Bournemouth is finally (almost) here. Opening Day on August 10th cannot come soon enough but before I get into the upcoming season, let's wrap up the summer events that have happened thus far.
It Came Home
I'm not sure if you, my dear friends from across the pond, have heard, but a certain country just won their fourth Women's World Cup final. Not only did this team set numerous records on their way to the fourth championship (also a record), they did it with style, and confidence, and swagger, and a total bad-assery, the likes that these eyes have never seen. Sparing all of you the thousands of words I could write about the United States political climate, this team rose above it all to represent our nation on the highest stage.
And represent they did.
The opening match thrashing of Thailand 13-0. Not allowing a goal until the round of 16. Defeating the host country France in the quarter-finals, before dispatching the upstart Dutch in the final, the mighty USA women faced an England squad in a thrilling World Cup Semi-Final match. After a back and forth affair, it came down to VAR disallowing an Ellen White goal and, stop me if you have heard this before, but a penalty miss by England.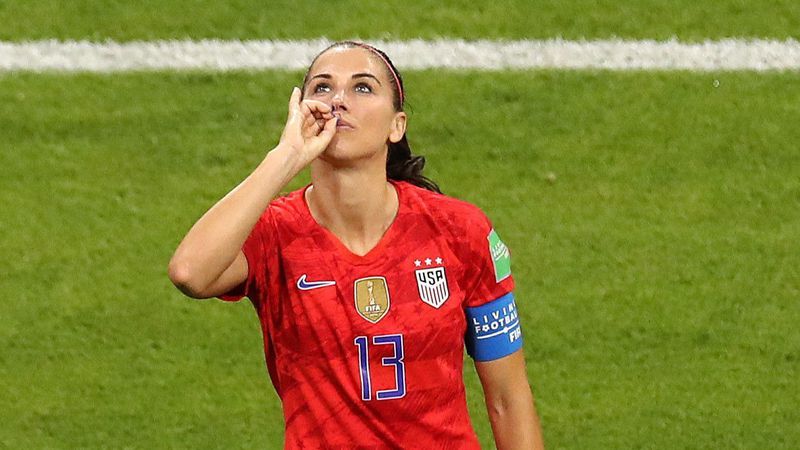 Now that's out of the way, let's get to the reason why all of us visit this site. Palace.
We say goodbye to Aaron Wan-Bissaka
Our darling academy player spread his eagle wings and flew north to Manchester. Losing the best defensive right back in the league will hurt. Losing the best defensive right back in the league that has grown with a Palace crest on his chest since he was a young boy hurts even more. Watching AWB go to work week in and week out was a real treat and the fact that he truly was "one of our own" made it that much more special.
After exploding onto the scene in a home match against Tottenham, Wan-Bissaka was a revelation on the right side for Roy Hodgson's team. Tackle after tackle. Interception after interception. No one was better in their own third than he was. Replacing him will be difficult but thankfully Joel Ward is looking healthy and ready to regain his starting spot.
Seeing him in Manchester red for the first time was a real shock. For whatever reason, he looks so young to be playing and starting for a team of United's size and prestige. I only wish him the best and now that he is at a big club, it is only a matter of time until he is featured for the England senior squad.
Speaking of transfers…
There is a 0% chance that Wilfried Zaha wears any shirt other than the beautiful new Palace kits next season.
However, there is a 100% chance that this is his last season with the club. It's inevitable. The speculation is now in the "when will he leave" stage as opposed to "will he go". Everything that I've seen makes it seem like time is running thin and baring a formal transfer request, he will be in a Palace shirt come August 10th.
My confidence in this is two fold. One, Palace just sold their 2018/19 Player of the Season for £50million in the aforementioned Wan-Bissaka. Selling both him and Wilf in one transfer window would send Palace Twitter into a meltdown. Even with a new stadium renovation on the way, Steve Parish cannot withstand the backlash that he would feel if he were to sell both players.
Secondly, and perhaps most importantly, there isn't a single Premier League squad that can match, or even come close to, the fee that Palace is asking. As I am typing this, Harry Maguire is rumored to be on his way to Manchester United for a record £80million fee, the most ever for a defender. £80million. For Harry Maguire. Non Palace fans mocked and laughed when they saw that the starting asking price for Wilfried was £80million. Not only is he the most important asset for Palace, but he's arguably the most important player in all of the Premier League.
It's a forgone conclusion that Zaha will leave for the bright lights of European competitions.
It is where a player of Wilf's caliber deserves to be. My only wish is for those matches to be played in Barcelona and Paris rather than Razgrad and Trondheim. That, and the boat load of money that will hopefully be spent in a manner that will keep Palace a Premier League club.
So let us enjoy this final season of his brilliance. Every defender he dribbles past. Every time an opposing fan base boo's him only for him to score a goal minutes after. Take it all in. Because next season he will be doing the same, only in a different shade of red. And that makes me sad.
So now what?
Well, I'm not really sure what to tell you. I'm not going to pretend to know all of the transfer rumours and the players involved. One thing I do know is that Palace need a goal scorer in the WORST way. Someone. Anyone. I don't care if they poach 15 goals or score 15 Puskas Winners. I just want someone that can and will consistently put the ball into the back of the net. It wouldn't hurt the club to have some competition brought in either. Maybe a left back to push Patrick van Aanholt to return to the 2017/18 version. Perhaps some midfield help to bolster the bench. Either way, help is needed in a variety of areas.
Another thing I do know is as long as Wilfried Zaha is running down the pitch in a Palace shirt then we should be fine. For however long that will be.
As always,
UP THE PALACE!!!