The world of football has always been a little bit mad. However this year, it seems that madness has been scaled up a notch onto a new level of bonkers. Players moving for transfer fees in the hundreds of millions, signing contracts worth half a million pounds a week, with buyout clauses approaching half a BILLION pounds.
Then there's the spoilt brat player sagas. Those that go on strike and refuse to play to force through a move to a new club, in some cases, actually going missing (think Ousmane Dembele), which bamboozled Borussia Dortmund to the extent that they issued a statement suggesting they had no idea where he was. Bafflingly enough, he was discovered in Barcelona… Hmmmmm…
Furthermore, the madness continues with the Philippe Coutinho saga. I don't know what's more crazy, the fact Barcelona offered £114million, or the fact Liverpool turned it down! It's a money game, and like many things, money talks, so if you want something bad enough, you'll have to stump up massive wads of cash to get it. We can thank television deals and sponsorships for that.
For Palace, this causes a quite significant problem, because whilst the board have not been afraid to splash the cash in the past, spending vast swathes of money each transfer window just to watch us scrape to a seventeenth placed finish after a relegation scrap each year is unsustainable. There are an increasingly large group of fans that seem to forget that it was only seven years ago the club was on its knees, financially knackered and on the verge of going out of business. With the spending fans are demanding, it would not be long until we were back there again.
The Mamadou Sakho deal is one we really need, the man is a monster, a defender of purpose and security, who has the ability to fix up our leaky defence and kick start our season. Unfortunately, Liverpool know this, which has led them to demand an eye-watering £30million fee for his services. That's insane.
The argument here is that, yes, that £30million, if spent, and the end result is Sakho keeps us in the Premier League, he's made up his transfer fee five times over. On the flip side, it sets a dangerous precedent, whereby clubs see we have spent big, and will therefore demand big for any future business we try to do. It's such a difficult call, that I am sitting on the fence, purely because for one, I don't think any defender should be valued at that price, however, I do want us to stay in the top flight. It's a tough one, Steve has his work cut out on that one.
More madness ensues as, in the world of football, no man is safe from the rumour spreading that is rife amongst the press, and after another diabolical performance at Selhurst Park at the weekend, suggestions are that de Boer could be about to lose his job. Already? After just three games in charge? The same comical story also targeted West Ham United's Slaven Bilic, a club who have also summered a similarly tumultuous start to the campaign.
It's true, we have not been at the races and this new 'style', that de Boer is stubbornly trying to enforce on the team, simply does not work with our players, however for his job to be under threat after three games is just ridiculous. Any Palace fan will agree the performances have been poor but I think even the most irrational fickle headed fan would also agree it would be a mistake to fire our manager so soon, especially with very few replacements waiting in the wings. Lets be honest with each other, put your hands up if you'd like to take on the role of Palace manager right now?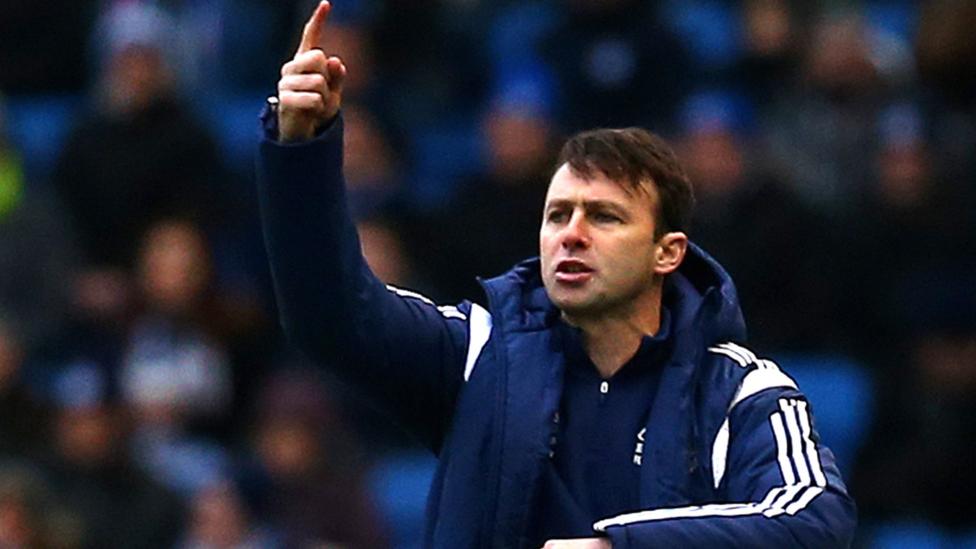 Wait, no! Forget I said that…
For this club to be a success, we need stability, because with stability comes progress. Sacking a manager so soon would be disastrous and Palace would be the laughing stock of the football world. For us, it's sad, but we are going to need to grin an bear it. We have to at least give things a chance to improve, but if not, we can do the normal thing, sack the manager and hire someone to save our season. It's worked the previous four years, so it'll work again, although we're fast running out of defensive minded old school managers to pick from.
You may notice, I'm waffling a bit. That's because I have been trying to avoid talking about the shambolic performance we had to witness by South London's finest on Saturday. The problem seems to stem from an attitude within the camp that is, as I have mentioned in previous weeks, sour and negative. This affects everyone, I don't know who the right person to stop the rot is, but what I do know is that it's been going on for some time. Mr de Boer hasn't, I fear, understood the scale of the challenge of the role at Selhurst Park, and that is, unfortunately, why I don't see his appointment working out in the long term.
Who knows? I've been wrong before. This is just an opinion piece after all. Lets just remember, Palace fans, to balance opinion with fact, and to not direct your opinion, especially when it is rude, unsavoury or otherwise, at the players on social media. That gets us nowhere. Right now we need unity, and threats, name-calling and insults will just create greater disparity between us and the club.